A WORLD VIEW OF ECHOCARDIOGRAPHY
Take a trip around the world of echocardiography … 

No passport required!
International Alliance Partners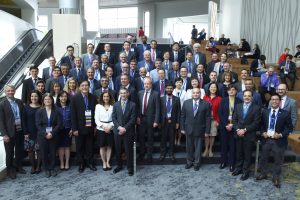 The definition of the word "alliance" is a pact, coalition or friendship between two or more parties, made in order to advance common goals and to secure common interests. The ASE International Alliance Partners program was developed in 2016 to create a pathway for collaborations and shared resources among participating membership-based echocardiography/cardiology societies. We proudly recognize 30 societies as collaborating partners.  One of our current collaborative projects includes the World Alliance Societies of Echocardiography (WASE) Normal Values Study.
Photo:  Echo society leaders worldwide participated in the International leadership luncheon during the ASE Scientific Sessions in 2019.
---
ASE Guidelines – Translations and Dissemination
ASE guideline documents are increasingly used by the global cardiac ultrasound community, so the next logical step was the translation of these documents, as well as the guideline posters and webinars. These translations have been prepared by medical teams in their native languages.  The guideline documents, available in eight languages, are available at asecho.org/translations.  Guideline webinars have been translated in Spanish, Portuguese, and Mandarin.
---
WASE Normal Values Study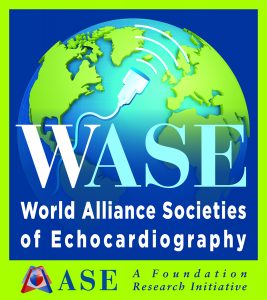 Do normal chamber quantification values vary across countries, geographical regions, and cultures? That is the question ASE plans to answer, with the help of ASE International Alliance Partners and friends. The World Alliance Societies of Echocardiography (WASE) Normal Values Study has organized study centers in 16 countries including the US, Canada, Mexico, Brazil, Argentina, Australia, Nigeria, India, China, Japan, Korea, Indonesia, Philippines, Iran, Italy and the United Kingdom. Principal Investigators for the overall study are Roberto M. Lang, MD, FASE and Federico M. Asch, MD, FASE. "We believe the information derived from this effort will be of benefit for echocardiography worldwide, not only in describing each population but in comparing them to each other," said Dr. Lang. The WASE study, which was launched in June at ASE 2016 during a meeting with the Investigators for each study center, will entail the acquisition of complete 2D and 3D echocardiograms in 100 patients in each geographical area of both genders and across a wide range of ages. All echoes will be analyzed in a core laboratory in the United States.  Read more about the WASE Normal Values study.
---
Honorary FASE
Each year ASE selects one or more of our colleagues living outside the US to receive the special designation of Honorary Fellow of the American Society of Echocardiography.  Twenty-three recipients have been recognized to date … some for their innovations, and others for their leadership. We have all benefited from their science and their friendship. In 2018, we recognized three new Honorary FASE recipients. While each recipient is held in high regard for their professional skills and have served in leadership roles with their national societies, ASE also considers each of them a close friend.  These friendships are based on mutual respect and trust, and were built slowly over time through numerous collaborative efforts, such as translated guideline documents, posters, global health initiatives, and World Summit on Echocardiography meetings.  They have opened doors for ASE to three of the most populated countries in the world – China, India, and Brazil.  Combined, those countries make up 40% of the world's population.  We are so grateful that they welcomed us every time to their countries, and showed us the way.  Because these recipients include FASE behind their names, they now serve as ambassadors for ASE throughout the world.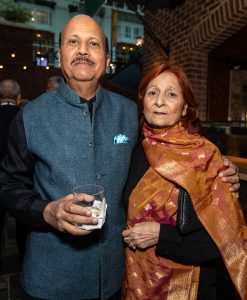 Dr. Ravi R. Kasliwal is Chairman of clinical and preventive cardiology, community outreach and education at Medanta Heart Institute in Gurgaon, India. Dr. Kasliwal has a long track record of interaction with the American Society of Echocardiography. In fact, in January and December 2012, when two scrappy groups of ASE volunteers organized global health initiatives in rural India to test the possibilities of remote reading and remote training, Dr. Kasliwal's leadership was integral to the facilitation of those events, which were the ASE Foundation's first two humanitarian events.  And in 2013 when ASE decided India would be a great place to hold the 2nd World Summit on Echocardiography, Dr. Kasliwal supported this idea and, as President of the Indian Academy of Echocardiography, used this opportunity to strengthen relationships between IAE and the rest of the global echocardiography communities.  We are grateful for his forward thinking. Dr. Kasliwal has garnered numerous awards for research and teaching. In addition, he has authored a state-of-the-art echocardiography textbook entitled Applied Echocardiography in Coronary Artery Disease, published in 2016.
Photo above: Dr. Kasliwal and his wife were VIP guests at the ASE Foundation gala in Nashville.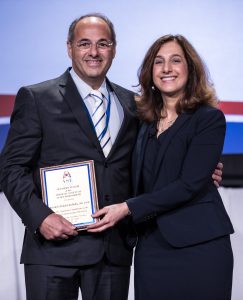 Dr. Arnaldo Rabischoffsky is a former president of the Department of Cardiovascular Imaging of the Brazilian Society of Cardiology (DIC-SBC). During his presidency, he developed very strong ties between DIC and ASE that continue to grow today. Much of his efforts have been in the translation of ASE's guidelines posters to Portuguese. Thanks to his efforts, numerous echo labs in Brazil now hang the translated posters on their walls. He has translated and taped five guideline webinars, which have each received between 1,000-10,000 views on YouTube thanks to his efforts to make this information available to the echo community in Brazil. His efforts have allowed the ASE guidelines to reach thousands of Portuguese-speaking echocardiographers around the world.
Photo left:  Dr. Rabischoffsky receiving his Honorary FASE plaque from Dr. Rigolin in Nashville.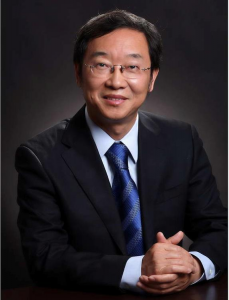 Dr. Tiangang Zhu is the person who helped introduce ASE to China and established ASE's continued presence in the most influential cardiology meeting (the Great Wall International Congress of Cardiology) in China.  He is one of the key organizers who coordinated the translation of over forty ASE guideline documents into Chinese.  He has also led several "Read with Experts: Understanding ASE guidelines" tours throughout China to help physicians in small towns and villages become familiarized with ASE guideline recommendations.  For the ASE Foundation's humanitarian/teaching events in China in 2016 and 2017, Dr. Zhu has declined participation in other meetings to fly to wherever the ASE volunteers were to lend his support. He is Vice President of the Chinese Society of Echocardiography and on the Executive Board of the ASEAN Society of Echocardiography.  Dr. Zhu is Professor of Medicine and Echo Lab Director at Peking University People's Hospital.  He has edited numerous textbooks on echocardiography and has been published in English and Chinese scientific journals alike.
Dr. Tiangang Zhu (photo right) has been instrumental in introducing ASE and our guidelines to the Chinese echocardiography community.
Previous recipients of this honor were Marcia Barbosa, MD, FASE (Brazil), Shintaro Beppu, MD, FASE (Japan); Roberto J. Canessa, MD, FASE (Uruguay); Namsik Chung, MD, FASE (Korea); Alessandro Distante, MD, FASE (Italy); Jean Dumesnil, MD, FASE(Canada); Raimund Erbel, MD, FASE (Germany); Liv Hatle, MD, FASE (Norway); Sabino Iliceto, MD, FASE (Italy), Hiroshi Ito, MD, PhD, FASE (Japan);  Pham Gia Khai, MD, PhD, FASE (Vietnam); Jorge A. Lowenstein, MD, FASE (Argentina); Gerald Maurer, MD, FASE (Austria), Jagdish C. Mohan, MD, DM, FASE (India); Fausto J. Pinto, MD, PhD, FASE (Portugal); Jos Roelandt, MD, PhD, FASE (Netherlands); Otto Smiseth, MD, FASE (Norway); Chuwa Tei, MD, FASE (Japan); Xinfang Wang, MD, FASE (China); Kiyoshi Yoshida, MD, FASE (Japan), Junichi Yoshikawa, MD, FASE (Japan);Jose Luis Zamorano, MD, FASE (Spain); Yun Zhang, MD, PhD, FASE (China).
---
International Leadership Award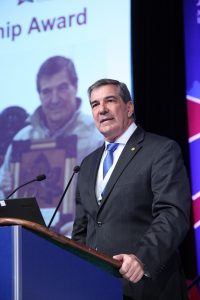 The International Leadership Award was established in 2015 as a pathway for recognition of ASE members outside the United States who have already received FASE designation and are deserving of recognition for outstanding contributions to the field of Cardiovascular Ultrasound through innovations, education, or leadership. Ricardo E. Ronderos, MD, PhD,FASE, from La Plata, Argentina, was selected to receive the 2016 International Leadership Award. A member of ASE since 1996 and FASE since 2010, Dr. Ronderos is recognized for his outstanding professional achievements, including the creation and leadership of his landmark master class for the past sixteen years. In addition, he collaborated with Dr. Roberto Lang for the successful leadership and organization of the recent ASE Foundation/Argentina Federation of Cardiology humanitarian event with the indigenous communities in northwest Argentina. Dr. Ronderos is a Past President of the Argentina Federation of Cardiology.
Photo above: Dr. Ricardo Ronderos accepts the International Leadership Award in Seattle during ASE 2016.
---
International Relations Advisory Committee Leadership and Staff
Federico M. Asch, MD, FASE – Co-Chair
Sunil Mankad, MD, FASE – Co-Chair
Rhonda Price – Staff Liaison, rprice@asecho.org
The International Relations Task Force works to enhance the global perception of Cardiovascular Ultrasound and the American Society of Echocardiography. ASE works in a variety of settings to assure the growth and excellence in cardiovascular ultrasound around the world and actively develops internationally distributed recommendations documents for improved patient care worldwide.
Disclaimer:  All information about foreign country programs featured on this webpage are provided solely as a courtesy and reference source by ASE, but such programs are not conducted or sponsored by ASE. ASE does not warrant the completeness or accuracy of the information posted on this webpage. All persons interested in participating in any of the volunteer programs listed on this page should consult with the program sponsor for information regarding the financial costs, personal injury risks and other details of each program. In no event shall ASE be liable to you, your patients, or any other third parties for any participation in any of the volunteer programs listed on this page or for any decision made or action taken by you or such other parties in reliance on the program information. Please send news for this page to rprice@asecho.org.

ASE will be pleased to post information about international meetings or activities with significant echocardiography content. Thank you!