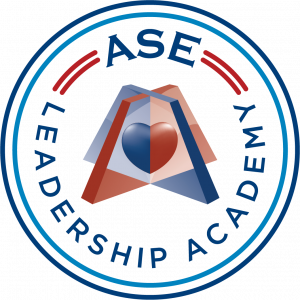 Applications for the 2022-2024 ASE Leadership Academy NOW OPEN until August 1, 2022.

To apply, log into the ASE Portal and then click here or from your profile page, click Membership then Leadership Academy.
This program provides a unique opportunity for ASE members to increase their knowledge and develop a skill set that will help them in their careers and personal life.  During this 20-month program, participants will be matched with a senior adviser, acquire a personalized evaluation of their leadership aptitude, and receive high-quality online tutorials on leadership topics valued at over $7,500.
"Participation in the ASE Leadership Academy provided the skill set and tools necessary to accelerate my career to the next level. The people involved, from ASE staff to volunteers to peers, all provided insights, knowledge, and connections invaluable to those interested in progressing to leadership positions."  Dermot Phelan, MD, PhD, FASE – 2020 Graduate