ASE Live Courses App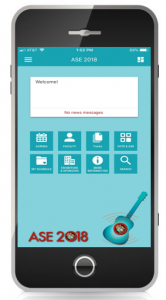 Stay up-to-date on all of ASE's live educational courses by downloading the free ASE Courses app. Find detailed information on each of ASE's events including faculty, agendas, exhibitors, networking events and more! Use the app to create or sync your event schedule and receive notifications of special activities and sessions while on-site.
Click here for Apple products.
Click here for Google Play Store.
EchoGuide App™ 
A new calculator and algorithm app based on the most popular ASE guidelines is in the works and will be available Summer 2022. Sign up to be the first to be notified with the app is available here. 
FREE to download on the Apple and Google
Play Stores.
Works on smartphones, tablets, and even
includes a web-based interface.
Quick access to common and challenging
echo measurements and values.
Calculators and algorithms based
on the most popular guidelines
published by ASE.